BUSINESS SPEECHES
Caprice believes in the importance of sharing her experiences, starting from nothing but a vision, passion and relentless determination to make By Caprice Products a worldwide success. She reaches out to a range of audiences, from university students to entrepreneurs starting and pursuing new businesses.
Sold out keynote speech given at The Women In Business Expo 2019. Caprice spoke about women empowerment and using her platform to promote a positive change.
2019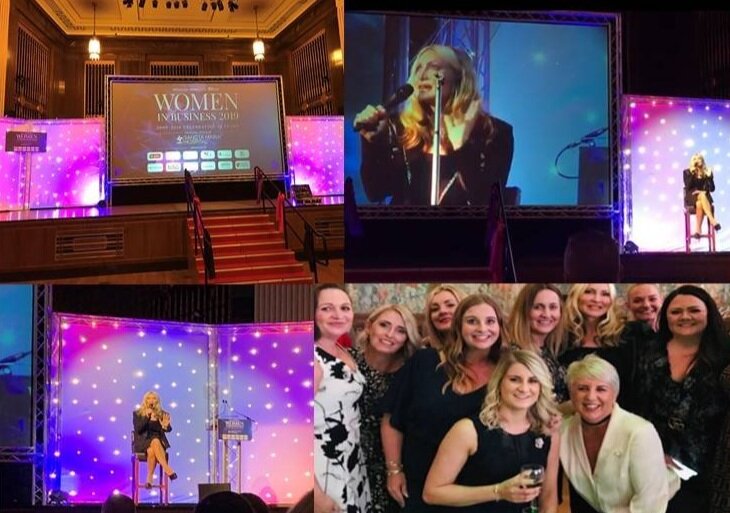 Caprice delivered a Keynote speech at the Women In Business Awards 2019 in Swansea. Celebrating the wonderful women in business.
2019
40 minute Keynote speech at Dialogkonferansen in Sweden.
Caprice talks about how 'we can't control what happens around us, but we can control how we react, to never be a victim, to take responsibility... embrace challenges. It is our opportunity to change and grow ... the end game is the person you become ...always continue to grow, change, give and contribute ... this will ultimately bring fulfilment and happiness'.
2019
BRAIN TUMOUR RESEARCH: SPEAKERS HOUSE
Caprice is a proud patron for Brain Tumour Research UK. She delivered a keynote speech at the house of commons to raise awareness for the cause.
2019
INTERNATIONAL UNDERWRITING ASSOCIATION
Keynote speaker at the IUA - Caprice discussed her journey from supermodel to businesswoman and the difficulties faced with the gender pay gap.
2019
Caprice delivered a keynote speech and sold out dinner in the Isle of Man.
Her speech focused on 'fear is no option', eliminating victimisation, elevating consciousness and taking back your power.

2019
Caprice attended The Business Show at Excel London where she gave a keynote speech to a sold out audience. Caprice shared her success story and highs and lows along the way. The speech ended with an audience question and answer session.

2018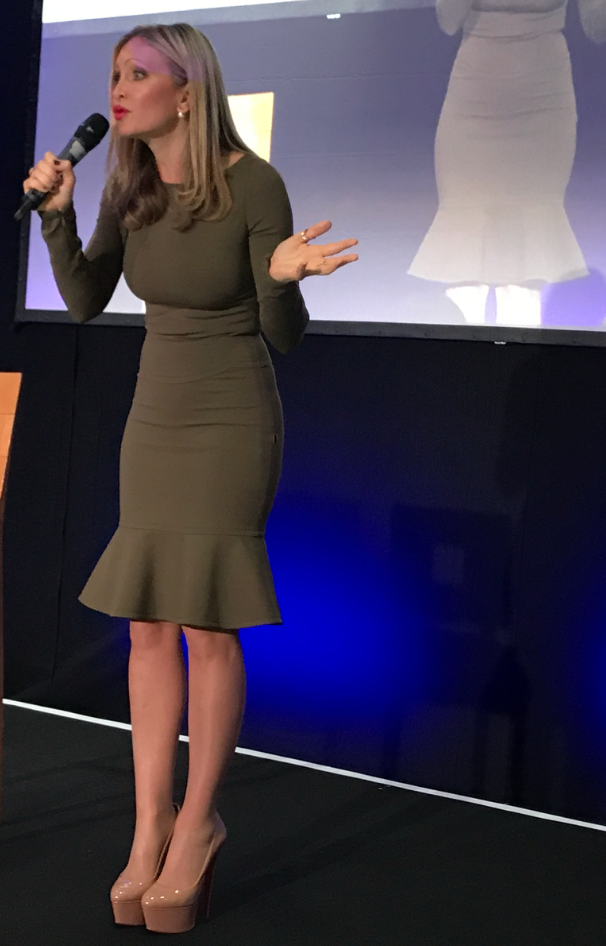 Caprice was invited to headline speak at Business 2017. Caprice spoke to a 500+ audience to standing ovation from London's Hilton London. She was one of the Keynote speakers alongside Brian Tracy and Michelle Mone.
2017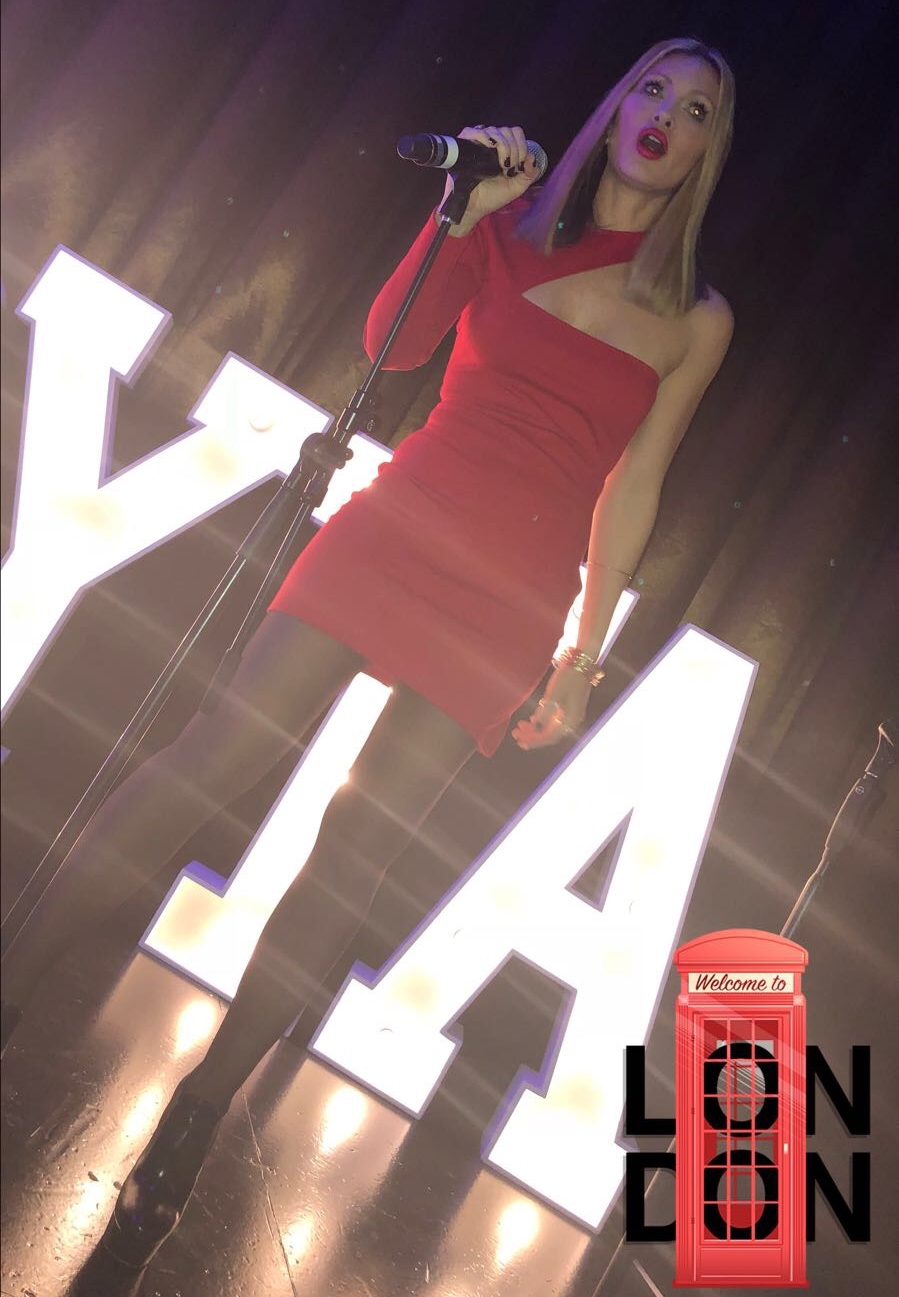 BRITISH YOUTH TRAVEL AWARDS
An evening of Caprice hosting at the British Youth Travel Awards, an evening spent of Caprice sharing her story and presenting awards!
2017
Caprice headlined at The Business Show at ExCel London. Caprice talked about her rise to fame and career transition into business and entrepreneurship to a record breaking crowd.
2017
At Speakers house supporting Brain Tumour Campaign for greater research funding RT Hon John Bercow - Speaker of House of Commons, Lord James O'Shaughnessy - Parliamentary Under Sec Of State At Debt Of Health, MP and Derek Thomas Chair of Brain Tumours APPG, Sue Farrington Smith MBE - Cheif Executive fighting to make a difference.
2017
Caprice speaks for 45 mins on her property portfolio and forecast for the future!
2017
ENCOURAGING WOMEN IN TO FRANCHISING AWARDS
Caprice was a keynote speaker sharing the story of her own success, from modelling to business ownership with By Caprice Products. Highlighting, 'brand integrity' and 'passion' as paramount to business success.
She delivered an inspiring and entertaining speech to the attendees thus inspiring more women into business ownership.
2016
Caprice co-presented the prestigious Cruise International Awards at London's swanky Ham Yard Hotel.
2016
NORTHERN BUSINESS EXHABITION
Caprice was a keynote speaker alongside Jo Fairley co-founder Green & Black's Chocolate and Reed Paget, Founder Ecocap and Belu Water, and MD One Earth Innovation. Caprice spoke for 45 minutes about the ups and downs of starting a small biz and encouraging entrepreneurship. After her compelling and insightful speech she answered questions from the audience.
2016
INSPIRE AND GROWTH HUB CORPORATE EVENT
Caprice was the keynote speaker at this corporate event. She spoke for 45 minutes and 30 minutes answering various questions from the audience. The focus of her speech was encouraging Entrepreneurship and suggestions to maintaining a successful business how to inspire your team so they work to their potential.
2016
TOP CLICK CORPORATE EVENT
Caprice was the keynote speaker at the corporate event. She spoke for 1.5 hours focusing on marketing strategies for.
2016
Caprice was a panalist for " We Women Mean Business" along with Pearl Lowe and Jasmine Guiness. An inspiring chat about balancing motherhood and entrepreneurship. There was a 30 minute question and answer at the end.
2016
SUSSEX CHAMBER OF COMMERCE
Caprice was invited to speak at The Sussex Chamber of Commerce Business Leader's Conference in Brighton.
Sussex's leading business 2 business event, Caprice's keynote speech set out to inspire business owners and budding entrepreneurs in the region. A networking event followed where attendees shared their stories and experiences.
2016
GREAT BRITISH ENTREPRENEURAWARDS
Caprice along with Oli Barrett hosted the biggest award show for entrepreneurs in the the UK calendar. Sponsored by NatWest this event celebrated and commemorated business at a start-up level to multi million dollar empires.
2015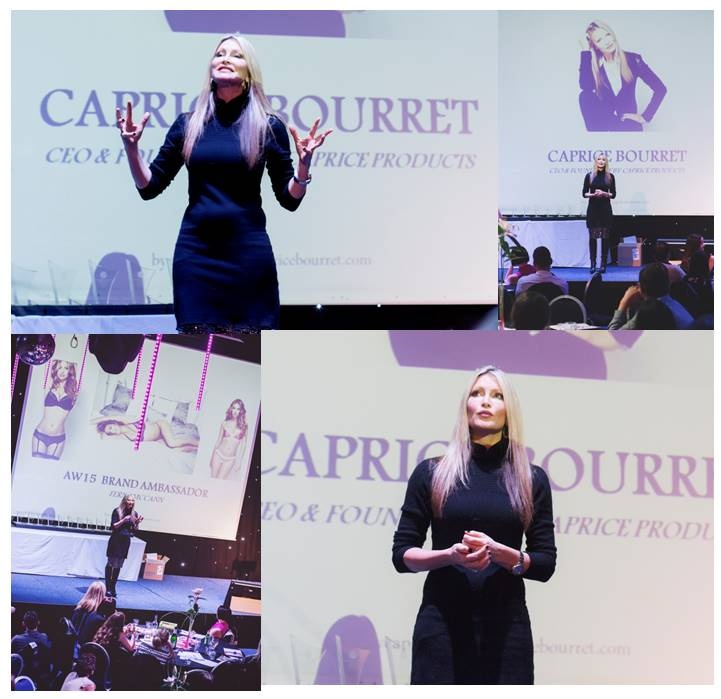 The UK's largest Mumpreneur Conference and Awards asked Caprice to co-host the 2015 event with Mumpreneur UK co-founder, Laura Rigney. Caprice also gave an engaging and passionate 45 minute speech at the conference to 500 delegates.
2015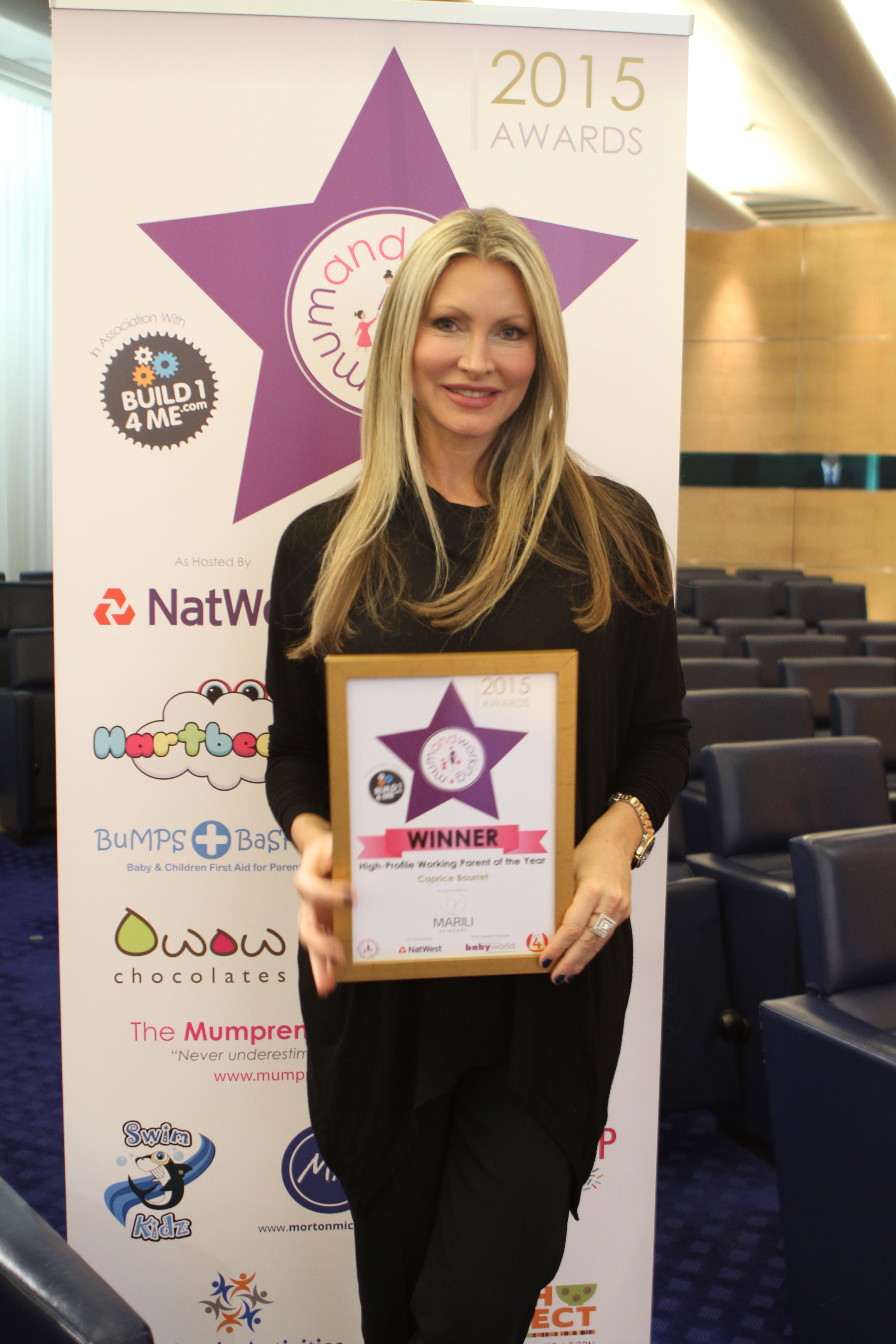 NATIONAL MUM AND WORKING AWARDS
Winner – High Profile Parent of the year 2015

Caprice was the winner of this prestige award...in the category of high profile parent of the year.
2015
Chelsea Magazine Company asked entrepreneur Caprice to be the host of their first inaugural Little London Awards 2015 at The Hurlingham Club.
2015
MORRIS PROPERTY DIVISION CORPRATE EVENT
International Property Magnate, Morris Property division, asked Caprice to give a motivational keynote speech to business owners in Shropshire to celebrate a new phase of commercial property development, the most successful in the Midlands.
2015
By Caprice Products proudly sponsored the first Women in Business Award at the annual Business Leaders Awards 2015. An honour and privilege to inspire and empower women in business, Caprice presented the winner with the prestigious award.
2015
SHROPSHIRE BUSINESS AWARDS
Key note speaker at the Shropshire Business Awards.
2015
MUMPRENEUR CONFERENCE AND AWARDS
Caprice won 'Celebrity Mumprenuer of the Year' and spoke to 250 of the crème-de-la-crème parent owned businesses at the industry renowned Mumpreneur Conference & Awards.
2015
MINDSHARE CONFERENCE DUBAI
Keynote speaker in front of 400 entrepreneurs and business leaders about the "What's Hot? Being Agile in Today's Marketplace,"…streaming live to 847,000 people, #Msagile was trending during her 45 minute speech. Other speakers included Daniel Sieberg, Ruud Gullit and Josh Klein.
2014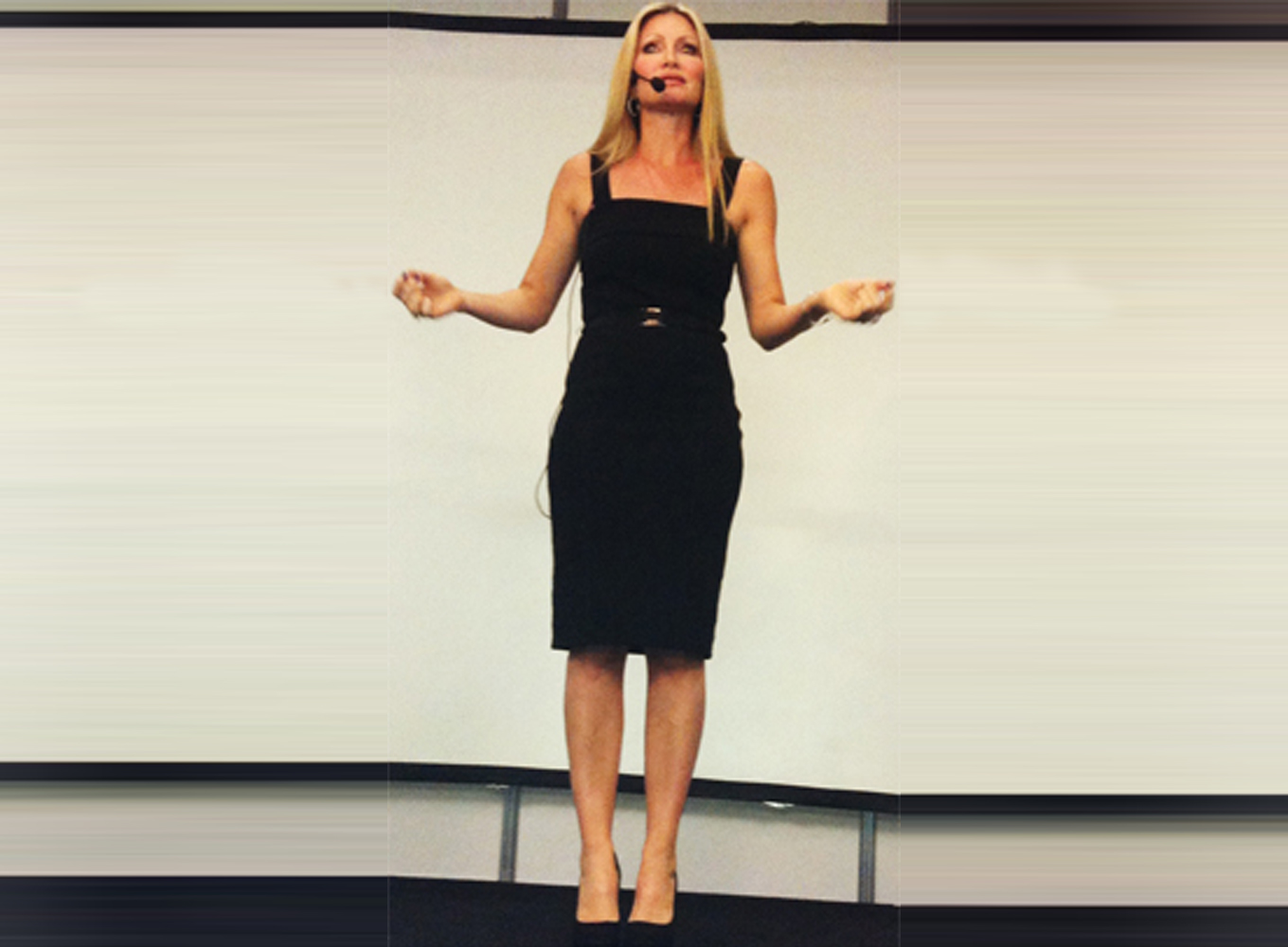 ENTREPRENEUR FORUM - BALTIC CENTRE FOR CONTEMPORARY ART
Key note speaker in front of 220 entrepreneurs and business leaders. 45 minute talk about the journey from rags to riches with 15 minutes for questions. Other speakers have included Sir Richard Branson, Sir Bob Geldof and Sir Jackie Stewart.
2014
Startup Grind is a global startup community designed to educate, inspire and connect entrepreneurs .Caprice attended as the Keynote speaker in One Canada Square in Canary Wharf where she inspired and advised hundreds of young business minds. Top CEO's and various business men and women attended where Caprice spoke in a 60 minute fireside chat.
2014
Talking primarily about how Caprice built an idea into an innovative business, a 45 minute speech followed by question and answer.
2014
EXCEL LONDON ENTREPRENEUR
London Excel Main Stage, 2012 Miss Bourret was one of the expert speakers alongside President Bill Clinton.
2012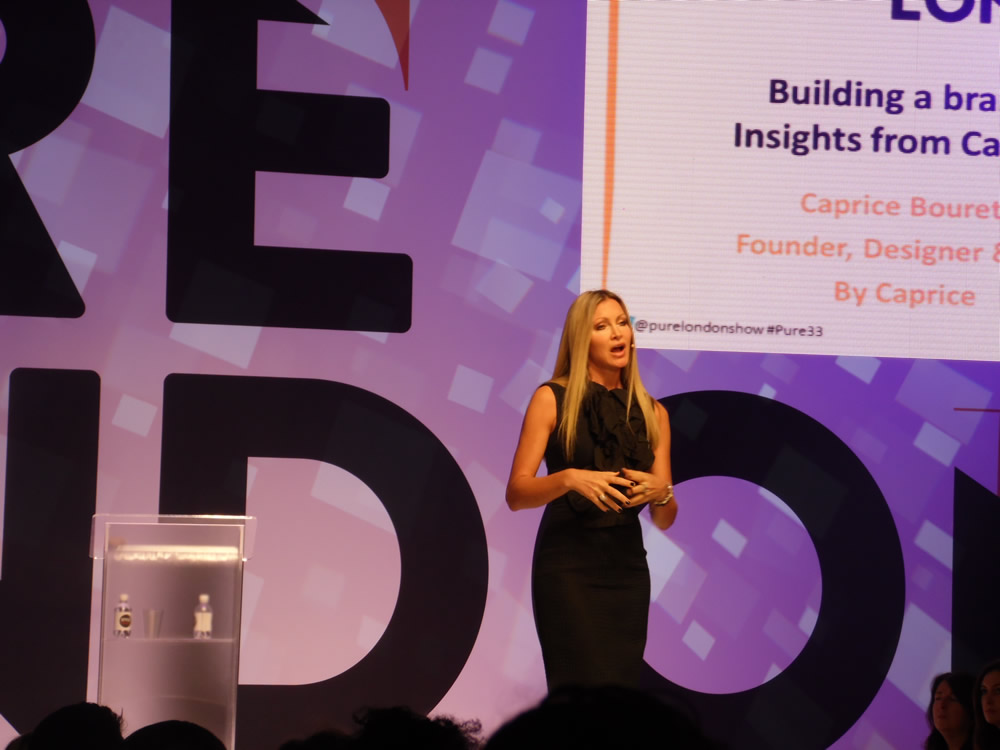 NEW START SCOTLAND EXHABITION
Scottish Business Exhibition, 2012 From super model to super business. Miss Bourret was an expert speaker at Scotland's main business event of the year.
2012
CAMBRIDGE UNION SOCIETY - 2011


FINANCIAL MAIL ON SUNDAY - BREAKING THE MOULD CONFERENCE - ROYAL INSTITUTION - 2011
In 2011 after the successful talk last year Caprice was asked to speak to female students at the 2011 conference about 'Careers in Science and Technology'~

DRAPERS FASHION SUMMIT - MAYFAIR HOTEL - 2010
May Fair Hotel, Caprice gave a key note interview on stage with the editor of Drapers, Jessica Brown.

Birmingham NEC, 2010 Caprice gave a speech entitled, 'Why I swapped the catwalk to start By Caprice Lingerie'.

FRESH BUSINESS THINKING - LIVE! - 2010
Old Billingsgate, London, 2010 Caprice gave a speech entitled, 'From Model to Entrepreneur'
OXFORD UNION - OXFORD UNIVERSITY - 2010


CAMBRIDGE UNIVERSITY JEWISH SOCIETY - 2010


FINANCIAL MAIL ON SUNDAY - BREAKING THE MOULD CONFERENCE - ROYAL INSTITUTION - 2010
Caprice joined a number of other successful role models to talk to female students about careers in business

LONDON SCHOOL OF ECONOMICS - 2009
'The Entrepreneurs' International Challenge'. Caprice opened the week of events and discussed the pressures of the economy on business and how to survive during this time. She also discussed logistics in starting up a business.

BUSINESS START UP - EXCEL LONDON - 2008
Caprice discussed her life in business from lingerie modelling to 'Queen of the Undie World'

DRAPERS MAGAZINE VIP CLUB - 2008
The celebrity business model: Caprice discussed her role in business and the importance of PR and celebrity profiling.

CAMBRIDGE BUSINESS SPEECH - CAMBRIDGE UNIVERSITY- 2008


THE BUSINESS SHOW - KENSINGTON OLYMPIA - THE BEGININNG
Key Note Speaker at The Business Show - the UK biggest business exhibition at Kensington Olympia London. Self-made business women Caprice Bourret tells the story of supermodel to businesswomen. The founder, designer and CEO of By Caprice shares information on the secret to her success.